Disclosure: This Riviera Resort dining page contains affiliate links. Read full Disclosure Policy.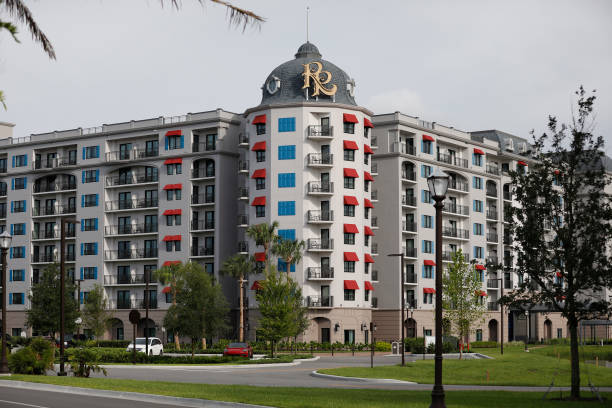 ---
Fitting with the overall feeling of luxury and exclusivity, there are four dining options at Disney's Riviera Resort.
These options span the typical types of Disney dining. First is the Bar Riva, an open-air pool bar by the Riviera Pool. Next step is La Petit Café, a small and sweet café based on a Parisian coffee bar. The quick service, Primo Piatto, is where you can get a meal at any point in the day. Finally, you have Topolino's Terrace, the signature dining experience at Riviera Resort. Topolino's brings incredible French and Italian cuisine to the guests – right here at Disney World.
If you're looking for a different type of Disney dining experience, you're going to love the options at Riviera Resort!
---
Dining Options at Disney's Riviera Resort
---
Riviera Resort Poolside Dining – Bar Riva
Opening at 11:00am, Bar Riva is a great location for a light lunch and refreshing beverage. With a surprising number of options, visit Bar Riva even if you're not planning to spend time at the pool. The location is also open into the evening, making Bar Riva a fun place for a late night snack.
Fabulous Food
Lovers of sandwiches will appreciate the spicy Italian sandwich or grilled chicken sandwich, both served cold and with your choice of soup, Romano and herb fries, side salad, or fresh fruit. The grilled chicken sandwich brings the best Mediterranean flavors, topping the chicken with roasted tomatoes, mozzarella cheese, and a savory spinach-artichoke spread, all on toasted focaccia bread. If you want something a bit more conventional, grab a bacon cheeseburger with all the fixins'.
If you want to go a bit lighter, try the Greek salad made with tomatoes, cucumbers, red onion, feta cheese, on a bed of crispy greens and drizzled with a zesty vinaigrette. For a bit of protein, top your salad with grilled chicken or chilled shrimp. For something a bit different, the tuna Niçoise salad takes you to France with seared rare tuna, potatoes, and egg over crispy greens with a Dijon vinaigrette.
Looking for a sharable or just a snack? Try the amazing chicken wings confit, fried in their own delicious fat and served with Calabrian chili agrodolce. Cheese lovers will enjoy the soft, melty brie baked into puff pastry and served with fruit preserves and grilled sourdough bread.
You can even get grilled chicken or a cheeseburger for your kiddos!
Delectable Drinks
While many of the Disney resorts have the same beverage options, Riviera brings something new to the table. A combination of French and Italian inspired cocktails complements the usual bar offerings of wine, beer, and cider. This rounds out Bar Riva, giving you the best of both worlds.
One of the unique drink finds is the La Petite Fleur, a mix of Cîroc vodka, Lillet Blanc (a slightly bitter floral aperitif), chamomile tea, with a spritz of lemon and soda water. Slightly heavier, but no less unusual, is the Almande Grog. A combination of cognac, rum, Disaronno, this grog packs a punch, softened slightly by notes of apricot, honey, and lemon, with soda water for effervescence.
Don't worry, if you want your typical tropical beverage, Bar Riva has plenty of options. One of our favorites is the Coco di Paradiso, a mix of pineapple rum and Italian bitters with flavors of coconut, pineapple, and lime. Some of other Disney favorites, like the Sunshine Margarita and Le Bourbon Breeze, also make an appearance on the menu.
Take a look at Bar Riva in this video!
---
La Petit Café – Bringing France to You
Open 7:00am to 9:00pm, La Petit Café is perfect for a coffee, snack, or light meal all day.
As far as food is concerned, La Petit Café offers a daily assortment of charcuterie, cheeses, and bakery items. We love gazing into the pastry case to see what's there, especially as La Petit Café does rotating seasonal treats. You can also find cold sandwiches in the case if you want something a bit more substantial.
However, the main attraction of La Petit Café is the coffee. In addition to typical French roast coffee, there are a myriad of specialty coffee drinks for you to try. Go for a rich caramel macchiato or café mocha, or add pep to your step with a double espresso. All available hot or iced, all delicious! You can also get a special cold brew drink, like the Cinnamon Cold Brew topped with house-made honey-almond whipped cream. We also love the Shakerato, double espresso shaken with demerara sugar.
Need something a bit stiffer? You can also get a variety of alcoholic beverages at La Petit Café! These include frozen concoctions, swirling away in the machines like fabulous adult slushies, or a specialty cocktail. We especially like the Euro Cosmopolitan, Grey Goose Le Citron Vodka and Cointreau with cranberry and lime juices for sweetness. You can mix your pleasures with a Caffé Amaro, a combination of Italian bitters, cherry liqueur, agave, and iced espresso.
---
Primo Piatto – Casual Dining at Riviera Resort
Open for breakfast, lunch, and dinner, Primo Piatto is the perfect place to grab a quick bite throughout the day. Enjoy a combination of American and European favorites, with those special Disney elements thrown in! Primo Piatto is a cross between an Italian market and a French café, fitting perfectly with the resort theme. This is also where you can pick up your refillable mug, which is good throughout the duration of your stay.
Breakfast
The signature breakfast item is the Croque Madame, a classic ham and Swiss cheese sandwich topped with a runny fried egg. If you're a fan of the classic Monte Cristo, consider the Croque Madame its breakfast cousin and give it a try. This sandwich comes with your choice of side – overnight oats, bacon, Italian sausage, or a side of eggs. The other savory option is the Primo Piatto Breakfast – scrambled eggs served over creamy mascarpone polenta with a Brioche roll on the side, as well as bacon and Italian sausage. Both of these meals show the fun blend of classic European flavors with your typical American breakfast.
If you like something a bit sweeter, a whole host of French toast and pancake options awaits you. Sweet cinnamon French toast bread budding, blueberry-lemon pancakes, and of course classic Mickey waffles all make an appearance on the menu. You can get each with your choice of side – and we recommend going with a protein option to balance your meal. Pick up a continental breakfast if you need to eat on the go or you want something lighter.
Primo Piatto hosts the resort's bakery, with an assortment of bagels, muffins, and flavored croissants to have with your breakfast. Primo's bakery also hosts truly enormous cinnamon buns, house-made, topped with sliced almonds and a sticky glaze. These buns are made with a flaky croissant-type dough rather than an American bun dough, giving it that French twist.
Lunch and Dinner
The same offerings for lunch and dinner, this Riviera Resort dining experience really sells the European style. A combination of pizza, hot and cold sandwiches, and salads gives you the chance to try new flavors without feeling weighed down by your meal.
Check out this video to see a full Primo Piatto lunch review!
Heath-Baked Pizza
Freshly made, there are two pizza options – the classic Margherita pizza and a sausage and pepperoni pizza. These aren't your typical American pizzas either, so be aware of that as you go into this experience. The Margherita pizza is closest to a "plain" pizza, made with tomato sauce, sliced heirloom tomatoes, fresh mozzarella cheese, and grated Romano cheese topped with a drizzle of olive oil and fresh-cut basil (which is easy to take off for your picky eaters). Again, with mozzarella as the cheese, this is closest to what your kids might want out of a pizza.
Meanwhile, the sausage and pepperoni pizza has Italian sausage, pepperoni, Provolone cheese (not your typical pizza cheese), and grated Romano cheese. I point this out just so you and your kiddos can know ahead of time, and make their choices accordingly. The last thing you want is to purchase a meal and not have it eaten!
Sandwiches
There are five sandwich choices, including a burger, bacon cheeseburger, grilled chicken sandwich, spicy Italian sandwich, and the signature Croque Monsieur.
For the burgers, the meat blend is chuck and brisket for depths of flavor and richness. Topped with aged cheddar cheese, shredded lettuce, tomato, and a zesty garlic mayo, as well as bacon if you wish it, these burgers will definitely satisfy a hungry customer! The grilled chicken and spicy Italian sandwiches are the same as Bar Riva's, bringing Mediterranean flavors to your Disney vacation.
Finally, the Croque Monsieur, which is a classic French ham and Swiss sandwich. Primo Piatto's version of the sandwich features heaps of sliced ham, melted Swiss cheese, and béchamel sauce set between two thick slices of toasted bread. Another slice of cheese sits atop the sandwich, melted into the top slice of bread for a rich finish.
All the sandwiches come with choice of side – French fries, Romano and herb fries, or champagne vinaigrette drizzled side salad. While all are delish, we recommend balancing your meal when you choose the side. The Romano fries are quite rich, so maybe don't pair them with the Croque Monsieur (or do, it's your vacation!).
Soup & Salads
We see the same salad choices here as at Bar Riva, and it's nice to have a sense of consistency across your Riviera Resort dining experiences. Both the Greek salad and the Tuna Niçoise are great for a lighter meal. You might also consider eating them al fresco in the Primo Piatto outdoor eating area. Soup lovers will enjoy the tomato soup, either on its own or accompanying a salad. A rich and creamy soup, it comes topped with Focaccia croutons and a drizzle of olive oil for that final flourish.
Kid's Meals
Eaters that are more adventurous might like the Disney check meals, sautéed shrimp with grape tomatoes or cavatelli pasta in a delicious red sauce. If not, don't worry, Primo Piatto also has cheeseburgers, plain cheese pizza, and chicken tenders for your littles. All come with sides of grape tomatoes, a fruit cups, and their choice of milk or a small water bottle.
Desserts
The bakery is open all day, so feel free to grab a sweet treat from the case! There are cookies of all kinds, as well as signature desserts for special occasions. In the cold case also find pints of gelato, the perfect way to end your meal on a hot day. Enjoy it in the cool of the restaurant or take it with you on an evening stroll – Riviera Resort dining on the go. Either way, you'll love it!
---
Riviera Resort's Signature Dining Experience: Topolino's Terrace – Flavors of the Riviera
Named for Mickey himself, Topolino's Terrace brings the best of French and Italian cuisine to guests in this incredible Riviera Resort dining experience.
Breakfast is available from 7:30am to 12:15pm, while dinner starts at 5:00pm and goes until 9:30pm.
We recommend that you plan for this meal on a non-park day, so that you can take your time and savor the experience. These meals are also quite popular, so be sure to book as soon as you can!
Breakfast
To begin, this is a character meal, with Daisy, Donald, Minnie, and Topolino himself (Mickey Mouse in Italian). Both Donald and Mickey wear the gear of European artisans, Mickey dressed like a painter and Donald like a sculptor. The outfits reference the importance of art to the regions of the Riviera. Daisy and Minnie sport fashionable European outfits, ready to hit the shops or see the sights. These are great photo opportunities, so you don't want to miss them!
As for the food, the options are incredible. For adults, go simple with the two eggs with roasted potatoes and choice of bacon, ham, sausage, or plant-based sausage. Alternatively, push your limits with the Quiche Gruyère. Comprised of eggs, Gruyère cheese, and house-made pancetta, this rich quiche comes alongside roasted potatoes and field greens topped with a lemon vinaigrette. We highly recommend the sour cream waffle, a rich and fluffy waffle topped with roasted apples, sweet Chantilly cream, and an orange-scented maple syrup.
For your kiddos, they can mix and match their items to create a breakfast to suit their tastes. The main entrees are scrambled egg, fruit and yogurt, or Mickey waffles, while the sides are roasted potatoes, fruit cup, sausage, and bacon. Kids choose one main meal item and two of the sides and their meal comes with milk, a small water bottle, or an apple juice.
Watch this video to get an overview of Disney character breakfast at Topolino:
Dinner
Dinner at Topolino's Terrace is definitely a more elegant affair, so we recommend skipping this one with the kids. Designed to be multiple courses, Topolino's Terrace is perfect for a special occasion or date night meal – bring on the romance!
Antipasto & Starters
Delicious Italian and French style starters make for great sharing options or something to nibble while you enjoy a pre-dinner cocktail. Our favorites include the gnocchi served with duck confit and pesto Bianco over garden kale and topped with pine nuts, as well as the Holland white asparagus topped with a soft poached egg, sherry vinaigrette and candied pancetta. Lovers of French classics will definitely go for the Escargot en Gougères, made in the traditional style with savory Pâte à Choux topping the escargot while they sit in a delicious concoction of butter, garlic, lemon, and parsley.
Pastas
While there are only two pasta options, both are handmade with love. The first is a rigatoni dish with braised chicken sugo, broccolini, wild mushrooms, and topped with Parmigiano-Reggiano cheese. Second is the Lobster Fettuccine, succulent lobster mixed with English peas, a classic lobster sauce, pickled onions, finished with a squid ink tuile for decoration. We suggest you take it slow as you eat these, and save half for later, especially if you're staying in a villa at Riviera. That way you can enjoy the experience twice, and still have room for dessert!
Seafood & Meats
This isn't your typical surf and turf – these meals really show you the style of cuisine in the Riviera regions. A tomahawk veal chop served with potato and spring onion gratin is one of our favorites, especially with the zingy lemon-veal jus for dipping. The rich and sweet diver scallops also top our list, served alongside a spring vegetable risotto, asparagus, and emerald crystal lettuce topped with Meyer lemon oil for freshness. If you're looking for a vegetarian options, try the Tarbais Bean Cassoulet, a combination of king trumpet mushrooms, root vegetables and plant-based sausage for a savory kick.
Children's Menu
If you do bring your kids, they have a similar mix and match setup to breakfast. Their entrees include rigatoni in tomato sauce, a petit beef filet, and grilled chicken. Kids pair their choice of entrée with two of the side selections – roasted carrots, mashed potatoes, fruit salad, and choice of gelato. We like that, at dinner time, you can essentially make the kid's dessert part of their meal with the fruit and gelato as side choices.
Desserts
There are three dessert choices, covering the gambit of rich chocolate to a light finish to the meal. The warm Valrhona chocolate cake is ideal for chocolate lovers, a soft, warmed cake with a sweet caramel center, topped with Chantilly cream and raspberries to cut through the richness. The mid-level option is a yummy pistachio mousse cake, layered with chocolate cake, lemon curd and Morello cherry to give you a range of sweet flavors. Finally, a delicious Fruits of the Forest dessert combines black currant mousse, blueberry sorbet, marinated berries and hibiscus cake into a light and refreshing dessert. The Fruits of the Forest is also plant-based, ideal for those trying to stick to a vegetarian option.
We know you'll love your taste of Europe with these incredible dining options at Disney's Riviera Resort!
---
Grace Hoyos, Staff Writer
Grace is a life-long lover of all things Disney, particularly the parks at Walt Disney World. She is also an avid Disney Cruise Line enthusiast who regularly dreams of the white sands of Castaway Cay. Grace loves the fact that her Disney trips give her time to spend with her family, enjoy incredible food, and try new experiences.