Disclosure: This Disney Vacation Club Rental post contains affiliate links. Read full Disclosure Policy.
This is the ultimate guide for learning how and why to rent Disney Vacation Club points.
So, you're curious about how to rent DVC points.
Is it worth it?
Is it time consuming?
Does it even save money?
All of these questions and more will be answered in this comprehensive resource about Disney Vacation Club rental. Whether you're a DVC member looking to rent out your points, or just a Disney fan curious about how DVC rental works, you've come to the right spot.
The Disney Vacation Club (DVC) can be compared to any other timeshare program. DVC owners can rent their points out to those wishing to utilize them.
Why?
Maybe the points will expire before they can use them, or they may own contracts strictly to rent out their points.
No matter the reason, you don't have to be a DVC member to gain access to those points!
You can rent DVC points almost any time of year and for any Disney property.
TABLE OF CONTENTS
---
Why Rent Disney Vacation Club Points?
Why would you want to rent Disney Vacation Club points?
The most common reason is to save money on your Disney vacation.
Renting points for Disney resorts frequently results in prices half as expensive as the going rate when booking direct through Disney.
You can also get exposure to resorts you may have never dreamed of staying in, or find availability for popular times of the year like EPCOT festivals that may be fully booked otherwise.
You have to plan in advance to get those really popular spots and dates, but with some forethought and time on your side, you can save a substantial amount of money without giving up that prime location or your favorite view.
This video can give some insight into the basics of how and why to rent DVC points:
---
How Much Money Can You Save by Renting DVC Points?
The short answer: potentially a lot.
A family staying at Boulder Creek at Wilderness Lodge in the spring can potentially save an estimated $1,800 by renting DVC points as opposed to booking directly through Disney.
For example, 6 nights in the spring in a one-bedroom, standard view at the Boardwalk in a Villa direct from Disney is $5,430.
Renting DVC points, you can get that same room for only $4,410. That's almost $1,000 in savings!
Maybe you don't want to take a Walt Disney World vacation right now.
DVC points can also be rented at Disneyland Resort in California, Hilton Head Island resort, Vero Beach resort, and even Aulani in Hawaii.
At Aulani, at the time of this writing, a standard view resort room in the winter will cost you $3,144 for 6 nights as opposed to $1,824 if you were to get the same room renting DVC points. That's a savings of over $1,300.
What if you wanted to stay at Aulani for only a long weekend in one of the villas, would that still save you money?
A one-bedroom ocean view Villa would cost $3,177 booking direct through Disney, while renting DVC points gets you the same room for just $1,748. That's a savings of almost $1,500 for just a long weekend in a very nice Hawaiian Villa.
The conversion from dollars to vacation points is normally anywhere from $10-$20 per point, depending on time of year, and whether or not the points are about to expire (owners will generally rent for cheaper if the points are at risk of expiring).
No matter how long you're staying or the type of room, odds are you can save nearly half off of your booking by going through DVC rentals instead of booking directly through Disney.
---
What are the Best DVC Rental Values?
The best value of Disney rentals will likely be for the more deluxe accommodations.
As you could see with the above Aulani example, booking a Villa was the better value than the resort room, if you were planning to spend that kind of money already.
Rental values will also depend on the time of year and whether there is a big draw to the parks, like the Food and Wine Festival or a new attraction opening.
Generally, the best DVC rental values are Old Key West Resort and Saratoga Springs Resort. That being said, during peak times like August, the value is significantly less.
For example, a Treehouse Villa at Saratoga Springs resort is $5,868 direct booking versus $5,544 renting DVC points; not the biggest savings, but still extra cash in your pocket. Old Key West Resort during this time is actually almost $20 more expensive to book using DVC points.
This goes to show that while some resorts typically have a better value than others, booking in advance and doing a little research is truly the best way to know if the room you are looking for is a great value or not.
---
Best Place to Rent DVC Points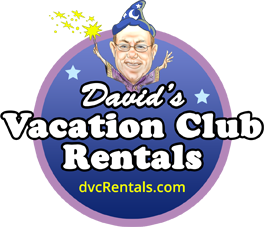 The best site for renting DVC points is DVCrequest.com or "David's Vacation Club Rentals".
Well-trusted in the DVC rental community, this website is a wealth of information about DVC renting. There is a cost calculator to help you do the same research listed in previous sections, as well as the option to book DVC rentals right there on the site.
The site has separate sections for DVC owners and DVC guests, making it easy for DVC owners to rent out their points seamlessly through the site.
---
Step by Step DVC Rental Process
So, you've decided you want to use DVC rental points to book your next Disney vacation.
How do you do it? The process is pretty simple if you choose to use an online booking site.
Find your booking site of choice, for this example we'll be using DVCrequest.com
Choose the dates you want to stay
Choose your top resort choice
Choose your room preference and if you need an accessible room
OPTIONAL – add additional preferences. This step is if you are willing to be more flexible with which resort you are staying at or what type of room you would like. If your first choice isn't available, your second choice will be booked, etc.
Add your personal information and you're all set!
If you learn better by watching, here is a video tutorial that takes you through the process:
IMPORTANT: When renting DVC points, you cannot get a refund if you cancel or alter your stay once it is booked. Due to the nature of DVC points and their unique expiry and usage dates, refunding changes to the booking can't be done.

Therefore, make sure that you have done some research and know exactly which dates you would like to stay and about how much you're budgeting for lodging.
If you decide to book through an individual member in a Facebook group, or you're renting a friend's points, the most secure way to do so is by calling Disney or having the owner book for you online.
Calling Disney is as easy as having a 3-way call between you, the owner of the points, and a Disney Cast Member.
Having the owner book online for you is also simple, but it is advised that you know this person or they have a good reputation in the rental community since there is no intermediary and there is more room for error.
If you are unfamiliar with renting DVC points, the easiest way to do so will probably be through an online service like David's.
---
Tips for Renting DVC Points
Tip #1: Plan Ahead
Plan well in advance to better your chances of getting the resort and room type you want during your preferred dates. Renting points at the last minute or with a very short span of time before your trip may still save you money, but you'll need to be pretty flexible with your preferences.
The best time to plan is 12 months out, as owners get their home advantage at 11 months out and thus will be able to save you the most amount of money.
Tip #2: Compare Prices
Another tip is to ensure you've done comparisons of prices. The websites listed have cost comparisons between room types, but you may have to look up the room on the Disney website to see what the going rate for those dates is for direct booking. This is especially true if you are planning to go during peak season when points may be scarcer, and rooms will be filled much quicker.
If you are renting DVC points to save money, which most people are, then doing the extra little bit of research will give you peace of mind that you really are getting the best deal.
Tip #3: Protect Your Vacation
A final tip would be to get some kind of travel insurance that will help if you do need to cancel for some reason like sickness or an unexpected emergency.
That goes along with paying with a card that has some form of protection, like a credit card, in the event that anything was to go wrong.
---
Bottom Line: Should YOU Rent DVC Points?
If you are:
planning to stay at a Disney property
want to save money
willing to do a little bit of research prior to booking
… then renting DVC points is probably a great choice for you!
It's also important that you have a good window of time before your planned trip, so you should rent DVC points if you have at least 12 months before you plan to stay.
The only potential downsides to renting vacation club points is if you may need to cancel or adjust your stay, or don't have the time/ability to research pricing beforehand.
A factor that may be a positive or a negative depending on your preferences is that renting a DVC room means that mousekeeping does not come on a daily basis to clean your room.
The idea is that the property is more like your own and thus you won't get fresh sheets and towels every day. Your sheets and towels are replaced after your fourth and seventh night. Your trash is still removed on a daily basis. If you don't mind that, then that's even more reason to rent through DVC owners!
The following table gives a comprehensive breakdown of the positives and (potential) negatives of renting Disney Vacation Club points:
| PROS 👍 | CONS 👎 |
| --- | --- |
| Possibility for significant savings | Must book well in advance for best deals |
| Stay at Deluxe resorts for Value or Moderate resort prices | Preferred resort or room may not be available during preferred time |
| Privacy (if you dislike daily mousekeeping) | No daily mousekeeping |
| Guaranteed reservation once you book | Can't make cancellations or changes to reservation |
---
Why Should You Rent Out Your DVC Points?
As a Disney Vacation Club owner, you may choose to rent out your points for any number of reasons…here are just a few:
You can't use your points before they expire
You aren't vacationing at Disney frequently now…but might in the future so you don't want to sell
You booked a reservation but now you can't go and don't want the points to go to waste
There are numerous reasons to rent out your DVC points, and doing so doesn't hurt you or your ownership!
Unlike renting a condo or house, the resort room or Villa isn't stagnant, and it isn't up to you to keep furnished or in working condition.
That means if something were to go wrong in the room that a renter was staying in, it isn't up to you to get it fixed!
The only downside to renting out your points is if you rent them and then decide you wanted to use them after all.
Other than that, there is virtually no reason to not rent out DVC points you don't plan to use, so do a little research into which method you want to use (whether websites or more personal like Facebook) and get to it!
---
As a DVC Owner, How Can You Rent Out Your Points?
If you're a DVC owner, websites such as DVCRequest.com, that are set up for DVC rental booking, also allow have options right on the home screen for owners to rent out their points.
That's probably going to be the most comprehensive way to do so if you are new to renting your points, or want to try it out. They take you step by step through filling out all of your information, and most let you rent out points for any of your home resorts.
This process also takes the guess work out of finding someone to rent your points, as the website does the work of matching owner and renter together based on the owner's available points and the renters preferred dates and location.
These websites also allow you to rent out existing reservations, it's just good to note that having specific dates already selected for a specific resort narrows the pool of renters able to take the reservation.
That being said, if you don't want to waste the points or are looking for someone to rent the reservation from you for whatever reason, the websites can simplify the process for you and take the bulk of the work out of your hands.
However, there are Facebook groups which have been mentioned that you can join where the entire purpose is for owners to rent out their points to people wishing to rent from them.
This process may work better for people who want to feel more in control of the process of renting their points, or who already know people in the community that are renting and can learn from them.
This is also a good way to find renters who may want to rent from you consistently if they know you, like your home resort(s), and have a good experience renting from you.
If you're looking to rent to the same people or families over a long period of time, utilizing Facebook or a more personalized approach may work better for you.
---
Which DVC Property is Best to Rent?
So…what do YOU think? Which Disney Vacation Club property is the best one to rent?
❓ANSWER ME THIS: Which DVC property is the best to rent?
---
Conclusion
Overall, renting DVC points can streamline your Disney experience and save you a large sum of money on the lodging expenses.
If you're an owner looking to rent your DVC points, there are a lot of benefits to doing so, particularly if you know you won't utilize them before they expire.
Doing some research beforehand is important no matter which side you're on (owner or renter), but websites like those listed above can help with that process and make it easier and more efficient.
If you have some time before your next vacation and want to stay in a more luxurious accommodation, look into renting DVC points instead of booking directly through Disney. It may be the best way to save money on your next Disney vacation!
So…what questions do you have about renting Disney Vacation Club points?
Post them in the comments below and we'll do our best to answer.